Buying property "in the path of progress" – well-situated for a new road link, for example – is one way to make capital gains. But being directly "in the path of progress" is one of the great nightmares for property owners.
One situation is where a home is targeted for resumption – the owner at least has some certainty (but faces the prospect of battling for fair value from a government authority). Considerably worse is the situation where a property may be required for a government project. Years of uncertainty can make the property un-sellable and severely damage its value.
The discovery that your property is potentially doomed because of a proposed infrastructure development can destroy an investment plan.
An example for property buyers.
The Sydney Morning Herald reported the uncertainty for home owners near Eveleigh rail yards in Newtown. Over 30 owners discovered their homes "could be" marked for compulsory acquisition. Uncertainty with a capital U marked this situation.
The SMH reported that carpenter Peter Cannon bought a cottage in a heritage conservation area, with a plan to renovate it as a retirement project. But two weeks after he began demolition and signed a $60,000 contract for excavation, he learnt the State Government had other plans. "His house and up to 33 others are on land identified since 2002 in government documents as a possible site for the north Eveleigh 'dive', an access point that would link a second rail tunnel to be built under the CBD to the planned Western Express route to carry services from Penrith and Richmond.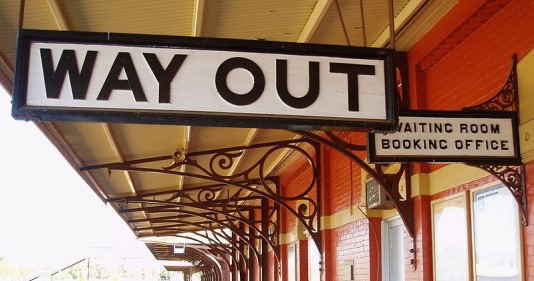 "Mr Cannon was gutted when he and other residents learnt that their homes could be marked for compulsory acquisition. The first communication residents had was a flyer from Transport NSW in letterboxes on 23 June 2010, which said no final decision had been made and that 'extensive' community consultation would occur first. On legal advice, Mr Cannon suspended work. With water seeping into a major excavation and the house partly demolished, he is in limbo, awaiting the government's decision. He is also $100,000 poorer, with a mortgage on a house he can't live in.
"More galling is the fact that RailCorp explicitly approved his development application in November. He had to comply with RailCorp's stringent requirements to get development consent for work so close to the train lines. When exactly were they going to tell us? he asked. We never would have started if we'd known. The place was liveable before. What's its market value now?"
The SMH reported that the area was first earmarked for demolition in 2002. The concept plan for north Eveleigh includes drawings showing an alignment that would affect homes in Leamington Avenue and Pine and Holdsworth streets. It was approved by then Planning Minister Kristina Keneally in December 2008. Fifteen houses had changed hands in the streets since then.
"A RailCorp report from 2005 on the Metropolitan Rail Expansion Program shows the area as part of a 'corridor for protection' to be reserved for rail infrastructure. However, a NSW Transport spokesman said feasibility studies were under way now and no final decisions had been made."
This report provided a striking example of why due diligence is so important for property buyers.