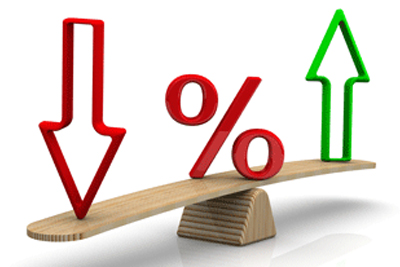 Official Rate To Rise, But Not Now
The official interest rate is more likely to rise than fall, but not any time soon, according to the Reserve Bank Governor. Philip Lowe, speaking at his six-monthly testimony before a parliamentary committee, said "the average level of rates would be higher" – eventually and gradually.
"The current market pricing implies a greater probability of a rate rise than a rate reduction," he said. "It also implies that the next move in interest rates is a long way out." The RBA has held the official cash rate at a record low of 1.5% for more than 12 months, but investors are expecting one interest rate increase with 50% probability of it being before May 2018.
Lowe said financial regulators are broadly happy with events in the home lending market. "Loan growth of about 6-7% is about right and lending standards have improved," he said.
When asked whether more was needed to slow lending growth, especially to investors, he said: "We have done enough."
Third of Aussies lie to get loans
A survey of 900 home loan customers suggests that only two-thirds had a mortgage based on "completely factual and accurate" information in their applications.
The nation's two most expensive property markets — New South Wales and Victoria — were also the ones with the highest rate of less-than-honest mortgage applications, according to the survey conducted by investment bank UBS over the past 12 months.
But 73% of Queenslanders claimed to be totally honest in their loan documents. False statements included exaggerating their earnings, inflating the value of assets and underestimating living expenses.
UBS estimates this means there is about $500 billion of so-called "liar loans" on lenders' books. With about $1.7 trillion of mortgage debt outstanding, that means home loans based on inaccurate or fraudulent information account for 29% of the total, and 18% of all private sector debt in Australia.
Quote of the week
"I think that they are both reasonable assumptions – that the next rate move will be up, rather than down, but that it will not be for some time."
Philip Lowe, RBA Governor
Renovations Boost GDP Growth
Solid growth in home renovations activity has contributed to a pick up in the pace of economic growth in the June 2017 Quarter, according to the Housing Industry Association.
The Australian National Accounts released by the ABS found that GDP increased 0.8% during the quarter to be 1.8% higher than a year ago.
Shane Garrett, HIA's Senior Economist, says renovations activity grew 2.2% during the June Quarter, eclipsing the contraction of 0.8% in new dwelling construction over the same period.
"The contraction in new dwelling construction is from the record highs achieved in 2016 and a large backlog of work is still to be completed," he says.
"We expect this decline in dwelling construction to continue for a number of years.
"Sustained growth in renovations activity will be a welcome antidote to the downturn in home building that we predict to unfold until 2019."
Owners Pick Up Investor Slack
Home-owner finance is on the rise, according to the latest release from the Australian Bureau of Statistics.
According to ABS Lending Finance analysis for July, the value of owner-occupied housing loans rose 0.7% in trend terms, while investor loans saw a 1% drop. The number of commitments for the construction of dwellings rose 2% – the same result as for the purchase of new dwellings. Loans for the purchase of established dwellings rose just 0.3% in trend terms, but remain dominant (83% of total commitments).
CommSec chief economist Craig James says the results show construction still has a way to run. "Budding owners of new homes remain active – loans to buy blocks of land hit $7.6 billion over the year to July, up 21% on a year ago," he says. "The home building boom has legs."
CBA economist Gareth Aird says the data shows that overall lending conditions cooled in July. "A clear divergence has opened up between the trends in lending to owner-occupiers and investors," he says.
Senate Seeks To Ban Cladding
The cladding behind the fatal Grenfell Tower fires in London would be banned in Australia under recommendations handed down in the Senate. Builders would also lose their licence, face heavy fines and be barred from bidding for government work if found using it and similar products.
The measures are part of a report into potentially dangerous building materials being used in Australia, such as the cladding on the PA Hospital in Brisbane, which was found to be too flammable and was ordered to be removed.
Labor Senator Chris Ketter, chair of the committee behind the report, criticised Australian regulators for being lax after the Lacrosse Tower building fire in Melbourne in 2014 – and for needing the fatal Grenfell incident to take action.
Senator Nick Xenophon called for the Government to respond to the report, including time frames for the implementation of its recommendations.